As Producer:
Love & Taxes by Jacob Kornbluth
The first-ever pro-tax romantic comedy, Love & Taxes tells the story of a legal secretary (Josh) who has gone seven uneventful years without filing his tax returns. But when his boss, a prominent tax attorney, demands that he get back into "The System," Josh rapidly falls down a rabbit hole of ever-deepening tax miseries. His instinct, honed over a lifetime of being a slacker, would be simply to "drop out" of The System again – but as it happens, he's fallen in love with Sara, a neurotically shy but charmingly impulsive public-school teacher; and when Sara gets pregnant with Josh's child, she demands that (a) they get married by the time the baby is born and (b) Josh solve his increasingly terrible tax problem before they get married. Faced with this ultimatum, Josh must confront the source of his antipathy towards "The Man": a countercultural childhood in which his parents seemed to teach him that the responsibilities of citizen- ship (like paying taxes) were an impediment to love and intimacy. Now, however, he begins to realize that in order to be a loving husband and father (and citizen), he must embrace those communal responsibilities – that, for him, love and taxes are inextricably bound together.
In Theaters and Online, Fall 2016 via Abramorama and Brainstorm Media
As Producer:
The Goyesque by Christopher Burke
The Goyesque is a film about the iconic bull in the world of art, so indelibly stamped upon the human psyche.  Its catalyst is the creation and destruction of a great fresco painting on the floor of a bullring for a traditional corrida goyesque. The film reflects upon the bond that ties man and bull while it observes the bullfight (long a symbol for the struggle of the artist) that destroys the painting – .  Shot in Arles' Roman arena and featuring art from cave paintings, Goya, Picasso, Francis Bacon; with original music. Premiering at Film Festivals Soon
As Executive Producer:
Remittance by Patrick Daly and Joel Fendelman
Remittance is the second narrative feature from the writer/director team, Patrick Daly and Joel Fendelman. Based upon an original script by Daly and Fendelman, Remittance is a realistic portrayal of low-wage migrant workers in Singapore shot at real locations with a cast including actual domestic workers. Remittance follows Marie, a foreign domestic worker from the Philippines as she struggles to cope with demanding employers, long hours of work, and separation from her family. Breaking from the conventional image of maids as labor, the story explores the transformations Marie goes through as a woman dealing with conflicting obligations and aspirations. At its heart, Remittance is a coming of age story about a woman trying to balance living for her family verse living for herself.
Playing film festivals now
As Executive Producer:
The Invisible World by Jennifer Fineran 
An obscure painter battles depression, modern art, and the constant risk of failure as he searches the spiritual realm for undiscovered images.  Emmy-nominated editor Jen Fineran follows the artist Mark Weiss as he strives to create a new method of automatic painting that resists formulaic closure and rewards persistence, revealing as it creates – and perhaps hurting and healing the artist in the process. 
Playing film festivals now
As Executive Producer:
Shored Up by Benjamin Kalina 
Shored Up is the vivid and timely tale of coastal development in New Jersey and North Carolina where a gamble on development and engineering collide with the force of nature.  Set in Long Beach Island, NJ and the Outer Banks of NC, Shored Up is a prescient look at what happens when we ignore the realities of geology in our drive to inhabit and profit from the land along our coast.  Filmed over three years and culminating with the impact of Hurricane Sandy, Shored Up foresees the consequences of our very human desire to live on the edge in the shadow of beauty.  As the film explores the political conflicts and personal stakes of communities along the shore in the years leading up to Sandy it becomes an eerie foretelling of the storm's devastation and a witness to its dramatic aftermath.
Visit our Facebook page or follow us on Twitter. Winner of numerous awards, including the Sundance/Hilton LightStay Environmental Film Award; Theatrical Release and Broadcast on DirecTV.
As Distribution/Marketing Advisor:
The More Things Change by Nathan Myers
Gerry Lopez first surfed Uluwatu in 1974. The fabled Balinese wave was pristine, magical, and Hey Jed yoga, however, Gerry tapped into a spirit of place that will endure.
Playing film festivals now
As Distribution/Marketing Advisor:
Island Earth by Cyrus Sutton
Following a successful Kickstarter campaign, we'll be helping Cyrus to release this film during the Summer/Fall of 2016.
Playing film festivals in the Fall and 2017
As Distribution/Marketing Advisor:
Skateboarding in Pine Ridge by Greg Hunt
This documentary shows how Oglala Lakota youth have taken to skateboarding in their own culturally distinct way. As 40 percent of the reservation's population are under the age of 18, they are already being referred to as the "generation of the skatepark".
Playing film festivals & online
As Distribution/Marketing Advisor:
The Fisherman's Son by Chris Malloy
Born and raised in a small fishing community in Chile, Ramón Navarro found his passion riding some of the biggest waves on the planet. From humble beginnings at Punta de Lobos, his skill and bravery in the ocean brought him national fame in his home country and made him a star in the surfing world. But today, his accomplishments in giant waves are just one part of a bigger vision to preserve the culture and environment of his beloved Chilean coast. The Fisherman's Son focuses on Ramón's rise to fame and how he's using his legend status in surfing to speak out for the protection of his lifelong home.
As Distribution/Marketing Advisor:
Jumbo Wild by Nick Waggoner 
Patagonia presents an hour-long documentary by Sweetgrass Productions depicting all sides of an epic struggle between backcountry protection and development in British Columbia's iconic Jumbo Valley. For decades, First Nations, conservationists, backcountry skiers and snowboarders have fought a proposed large-scale ski resort deep in the Purcell Mountains of British Columbia. After 24 years of opposition, what more will it take to keep Jumbo wild for good?
Online Spring 2016
As Distribution/Marketing Advisor:
DamNation by Ben Knight and Travis Rummel
Patagonia presents DamNation, the remarkable feature film by Ben Knight and Travis Rummel that explores the changing national awareness about America's big dams.  With acclaimed underwater photographer Matt Stoecker, the filmmakers embark on a perilous and breathtaking visual odyssey of the natural and manmade monuments of the American Northwest, exploring how delicate river ecosystems and their native species survive in the footprint of the towering dams of the last century.
Online Summer 2015
As Distribution/Marketing Advisor: 
Big Men by Rachel Boynton
Executive produced by Brad Pitt, Big Men follows what happens when a Texas oil firm makes an enormous discovery off West Africa's coast. Gaining unprecedented access to reveal big business in oil, it took six years to make and takes viewers around the world, from inside Wall Street boardrooms to the jungle camp of a Nigerian militant group. Director Rachel Boynton has an incredible ability to go behind closed doors; her access is critical when Kosmos Energy makes its enormous discovery. Christened the Jubilee Field, this massive undersea deposit had the potential to return a staggering $2.2 billion to investors. Big Men is a story told from the inside, as it happens, not reconstructed once the dust settles. Called "a real life Chinatown or There Will Be Blood" by Variety critic Scott Foundas, this extraordinary film poses fundamental questions about what motivates us all: is unbridled greed an intrinsic part of human nature? And can what unites us ever be greater than what divides us?
Big Men recently hit number one on iTunes.
As Advisor:
Big Sonia by Leah Warshawski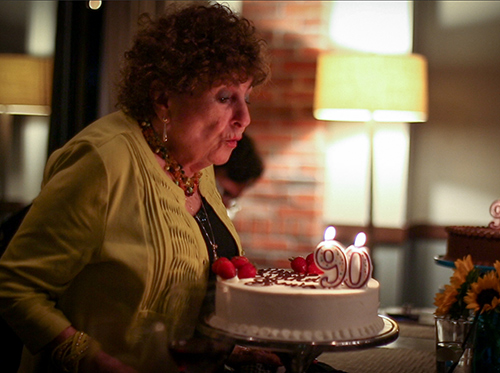 As Advisor:
One Big Home by Thomas Bena
As Advisor:
Lucky by Laura Checkoway
As Advisor:
Landfill Harmonic by Juliana Penaranda-Loftus
Landfill Harmonic is an upcoming feature-length documentary about a remarkable musical orchestra in Paraguay, where the musicians play instruments made from trash.
Sub-Genre consulted on social media and marketing strategy for this film. The film's trailer has now received millions of views and been featured in press around the world.
Visit the Facebook Page or watch the trailer below. The film premiered at SXSW.
As Advisor:
Ai Weiwei: Never Sorry by Alison Klayman
Ai Weiwei: Never Sorry is the inside story of a dissident for the digital age who inspires global audiences and blurs the boundaries of art and politics. First-time director Alison Klayman gained unprecedented access to Ai while working as a journalist in China. Her detailed portrait provides a nuanced exploration of contemporary China and one of its most compelling public figures.
Brian advised the film on social media, Kickstarter and fundraising & distribution strategies and is credited as a key advisor in the film.
As Advisor:
General Orders No. 9 by Bob Persons
General Orders No. 9 is an experimental documentary that contemplates the signs of loss and change in the American South as potent metaphors of personal and collective destiny.
Brian served as distribution advisor and handled all digital and DVD deals for this film. Theatrical release and premiered at Slamdance.
As Advisor:
Ricky on Leacock by Jane Weiner
In this intimate portrait of filmmaker Ricky Leacock, Jane Weiner mixes footage that she's shot (over a period of 38 years) of encounters with Henri Langlois, Jean Rouch, Jonas Mekas, Ed Pincus, et al, with examples from Leacock's cinematic adventures and never-before-seen segments from his personal film archives.
Brian managed the Kickstarter campaign for this film and advised on festivals and distribution.
As Advisor:
GRFX (PushPush)
GRFX takes us inside the hectic world of Dresher's Publishing, an international, family-owned publisher of old-school paper & ink comics and graphic novels, that is fighting to stay relevant in the evolving digital world. When founder Grandpa Dresher passes, two grandsons with different ideals stand to assume control of the company — CALE, a shrewd businessman who wants to commercialize the steadily declining company, and the prodigal son, PAUL who reluctantly returns to maintain its soul.
As Advisor:
Quadrangle by Amy Grappell
Quadrangle is an unconventional documentary about two "conventional" couples that swapped partners and lived in a group marriage in the early 1970s.
Brian served as consultant to this film, and consulted on its sale to HBO Films.